GOLDEN EAGLE® DECALS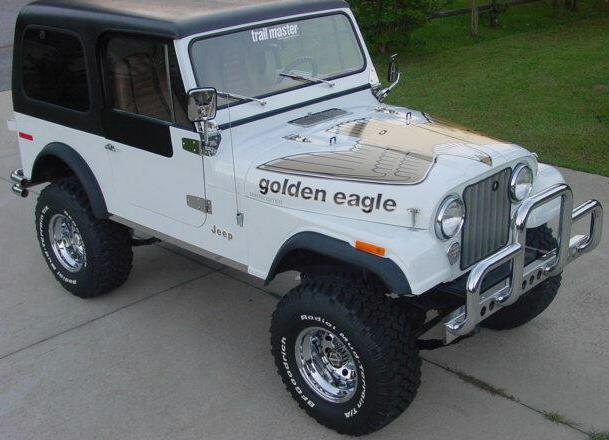 Golden Eagle®© decal kit comes with bird and two side letter sets,3/8" 3color original body border stripe,and LIMITED EDITION decal. We also carry Limited Edition Genuine GOLDEN EAGLE T-SHIRTS as well as the new GOLDEN EAGLE tire covers (shown below).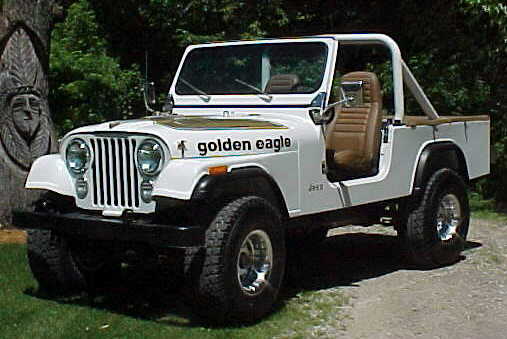 Complete Original 3-Color Decal Kit: $279 (Black, Gold, and White, Done on 3M Scotchcal-weeded, premasked and clear coated)
Kit Includes: Hood Decal, "GOLDEN EAGLE" Letters, "LIMITED EDITION" decals and original 3 color body pinstriping as well as a GOLDEN EAGLE T-shirt in the size and color of your choice.(White, OD Green, Black, and Grey)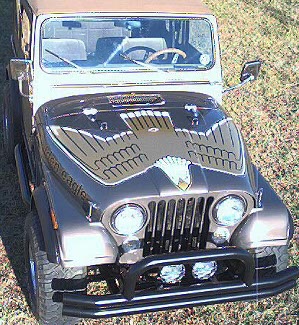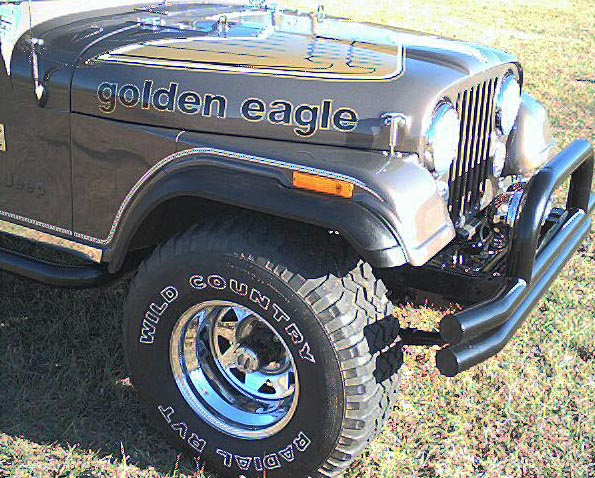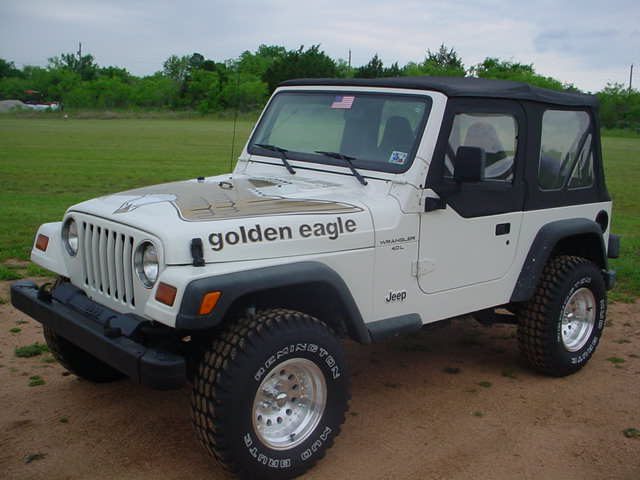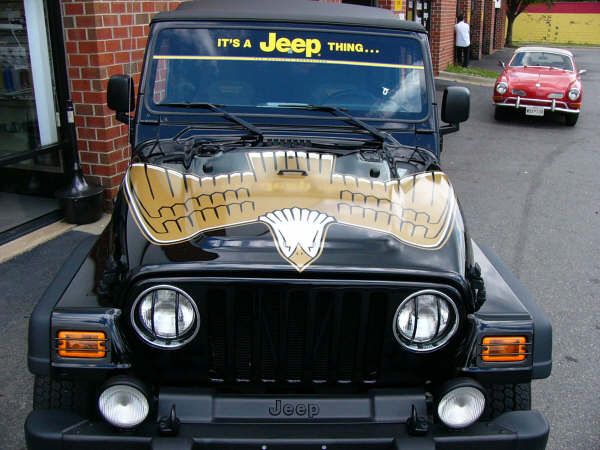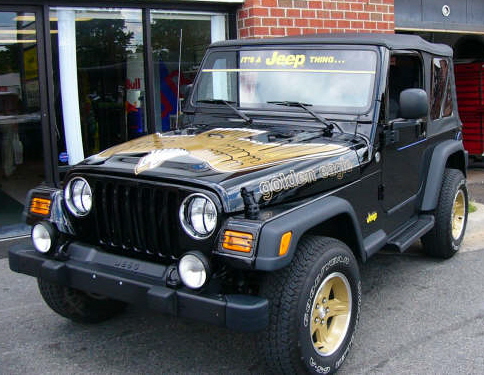 Golden Eeagle decal kit for 97-05 TJ Wranglers only $259!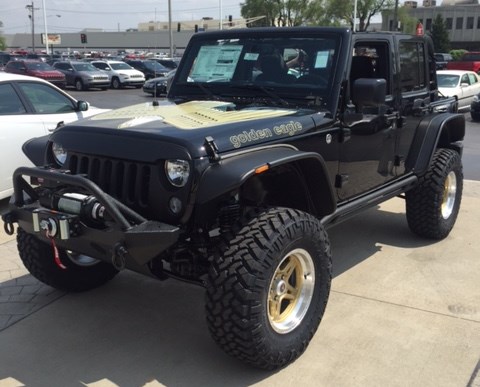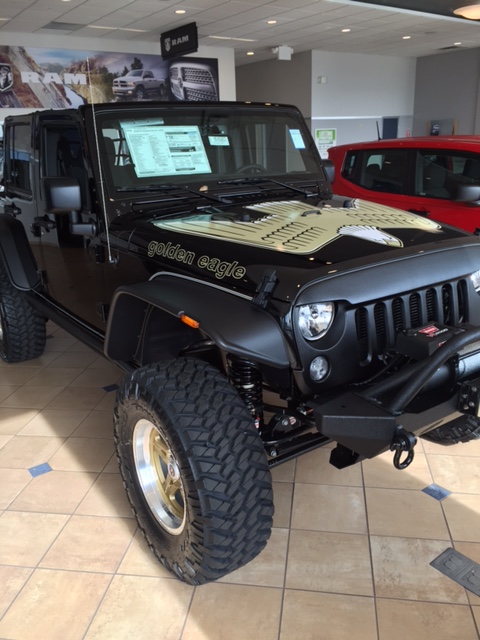 JK Golden Eagle Kits for $249
Includes "Limited Edition" decals and 3-color pinstripes. Fits 2007-2016 JK Wranglers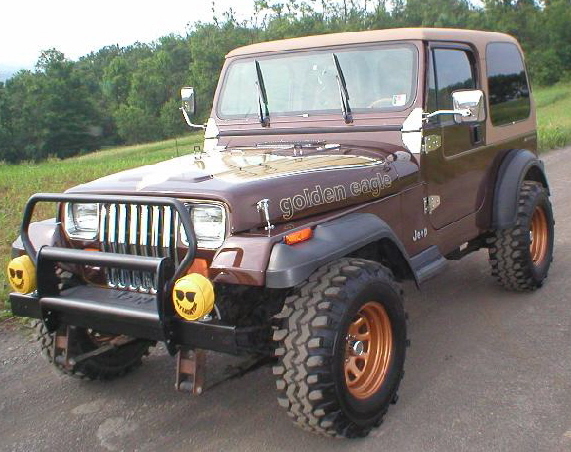 YJ Golden Eagle Kit $259 (all Eagle kits include a T-Shirt)

CHEROKEE or J-series GOLDEN EAGLE KIT: $355
Kit includes correct original size bird for hood Golden Eagle letters for tailgate and full rocker stripes in gold and black. Also includes gold/orange fine stripe that goes above rocker portion.

Golden Eagle tire covers- only $49 with the order of a complete Golden Eagle decal kit only. (available in Levi Tan or Black)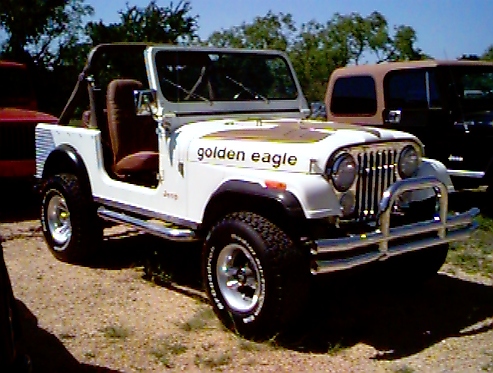 1-800-316-JEEP (5337) or Mob. 512-797-1664

If you have any questions or comments you can also e-mail me at:

Golden Eagle is a registered trademark of Chrysler group LLC.

This website and all its contents are the property of Michael Jewell; © 1998-2017 by Mike Jewell. All rights reserved. Unauthorized duplication is a violation of applicable laws.